Its a known fact that Retail participation in Stock market have been dwindling for retail investors. Added to this, retail investors have badly burnt their hands by investing in over-priced Initial Public Offers (IPOs).
Sai Silks (Kalamandir) Limited, is coming with its IPO with "Safety Net Scheme".
[note color="#FFCC00″]Under this scheme, if the market value of the equity shares falls below the issue price at any time during the six months from the date of credit of the Equity Shares, the company would buy back maximum of 1,000 shares at the issue price from the original retail allottees.[/note]

The Safety Net Feature is still under discussion and still not been made mandatory by SEBI. But this is a good move by a small company and should encourage retail participation in their IPO. Also retail investors would have a safety net. Given that their issue price might be Rs. 75 per share, it might not be bad idea to bid for 1,000 shares. The only loss you can expect is the opportunity cost and the loss of interest for 6 months, while the upside is unlimited.
The Sai Silks (Kalamandir) Ltd IPO would open from February 11 – 13, 2013.
About Sai Silks (Kalamandir) Ltd:
The core business of the firm is retailing of saris, women dress materials, men and kids wear, and sales of gold and silver jewellery. The company has 15 retail outlets across Hyderabad, Guntur, Vijayawada, Bangalore, Kanchipuram and Hanumakonda with cumulative spread of over 1.29 lakh sq feet.
As of March 31st, 2012, the net worth of the company was at Rs 47.65 crore. The company had reported total revenues of Rs 262.76 crore, out of which Rs 163.02 crore was from saris, dress materials and other clothing division and Rs 99.50 crore from gold, silver and diamond jewellery articles last fiscal. The net profit for the period was at Rs 11.69 crore
Below is the advertisement for the IPO: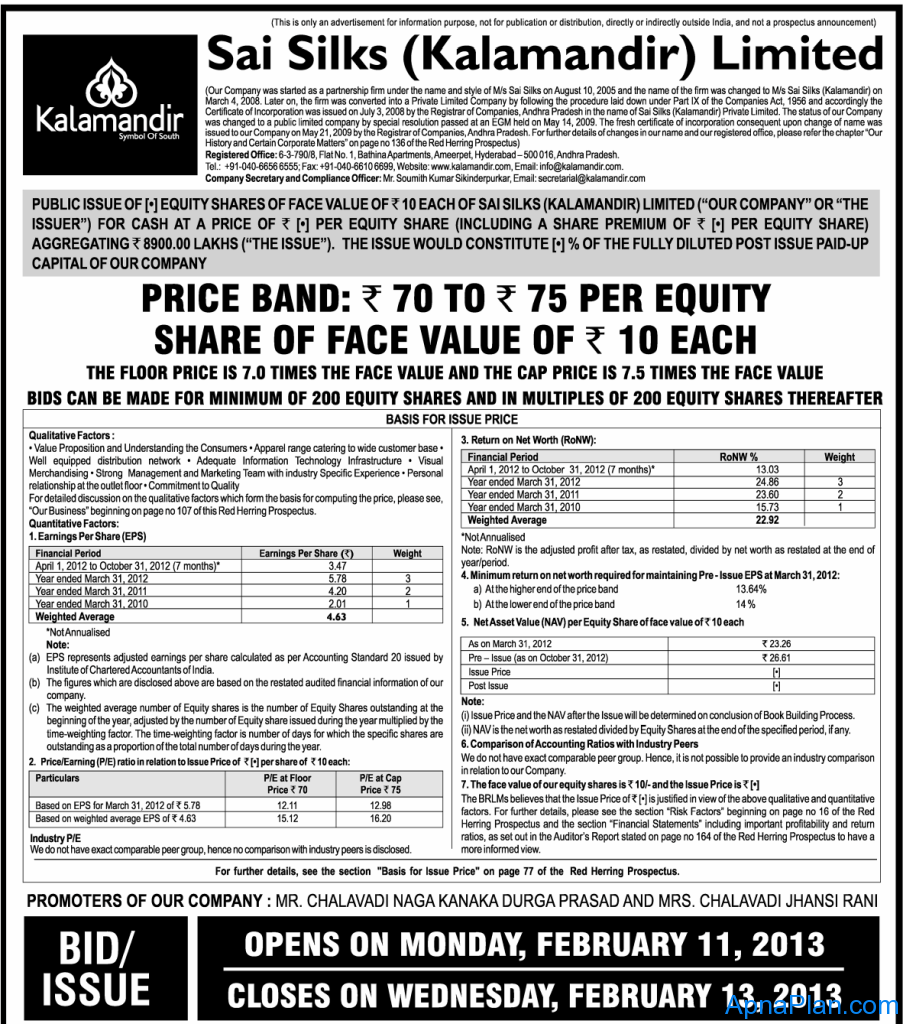 Would you invest in this IPO?