The Interest Rates on Small Saving Schemes like PPF (Public Provident Fund), SCSS (Senior Citizens Saving Scheme), NSC (National Saving Certificate), Monthly Income Scheme (MIS), Post Office Recurring Deposit (RD) and Post Office Term Deposits have been cut by 0.1%. However the interest rate on term deposit for 1 Year and the Post Office Savings account have remained unchanged. the new interest rates would be effective from April 1, 2013
Interest Rate Changes :
PPF interest rates have been cut to 8.7% from 8.8% earlier
Senior Citizens Saving Scheme would now yield 9.2%
NSC would give interest rate of 8.5% for 5 Years maturity while 8.8% for 10 Years Maturity
Post Office RD would give interest of 8.3% as compared to 8.4% earlier
Post Office Term Deposit would give interest rates of 8.2% to 8.4% depending on tenure
The interest rate on Post office Savings Account has been kept unchanged at 4%
All these new interest rates would be effective from April 1, 2013
The table below has the summary of changes: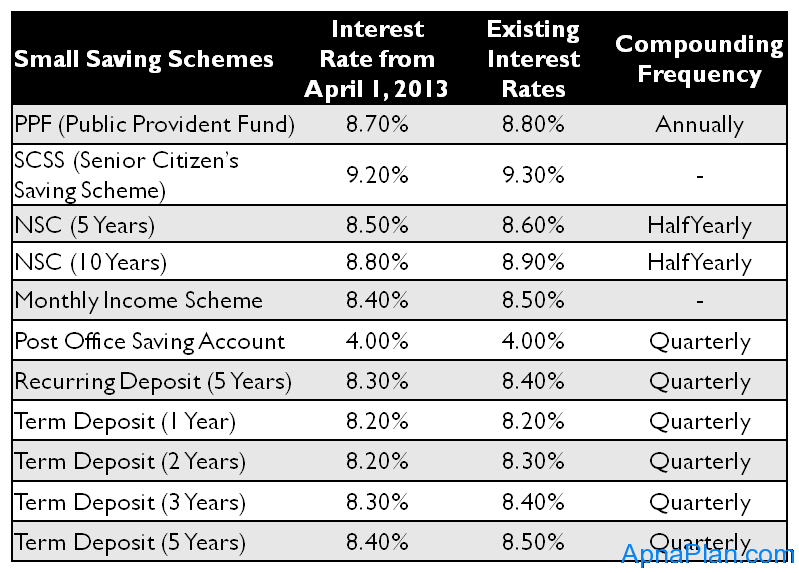 The above cut in interest rates was expected as we are in downward trend for interest rates.
You can know all about above Small Savings Schemes like NSC, PPF, etc by Govt. of India here.