Its last day of the year and it's a good time to reflect on how the year was and to plan for the next. Keeping this in mind I thought of sharing my thoughts on ApnaPlan.com and how was the year 2012 for this blog.
Visitors and Page views:
Around 3.21 Lakhs people visited Apnaplan.com in 2012 leading to around 5.86 Lakhs page views. April turned out to be the best month with around 53,000 visitors and 1,05,000 page views.
Below is the chart showing monthly breakup of visitors and page views.

2013 Target: I would like to reach 1 Million page views in 2013. This can happen one by bringing more visitors to the site and secondly by encouraging more page views per visitor.
Traffic Sources:
Apnaplan.com got about 90% of traffic from search engines. This is great news. Below is the breakup of traffic sources.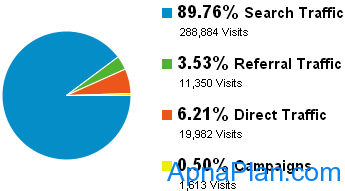 Content:
I had written 210 posts on ApnaPlan.com in 2012. The posts have been erratic as I had done around 60 posts in March while just 1 in October.
The good news is the Income tax calculator in Excel for 2012-13 posted in March 2012 had more than 2.1 Lakhs download.
Below are 10 most popular Posts for 2012:
2013 Plan: I plan to be more consistent with my blog posts. Also looking forward to Guest posts. If you are interested you can mail me at [email protected]
Alexa Rank:
The Alexa traffic Rank as of today is 144,873, while the website is ranked 16,861 in India. This I think is good for one and half year old blog.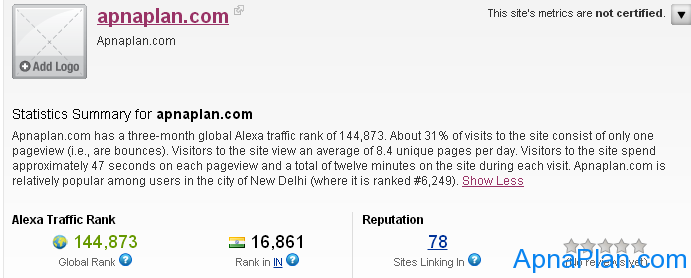 2013 Target: Would love to see Apnaplan.com in top 1 Lakh sites worldwide according to Alexa Ranking. Also would like to go below 10,000 in Indian Ranking.
Subscribers:
As of today there are 866 subscribers using feedburner. The Facebook page of Apnaplan.com has 90 Likes. I need to work on this and increase the likes on Facebook.
2013 Target: Plan to have an average of 5 new subscribers through feedburner every day and average of one Like from Facebook per day.
Revenues:
As of today I have only Infolinks on the site. This is not a great revenue generator and has generated USD 322 in 2012. Below is the monthly breakup of Infolinks revenue.
I tried Chitika and other affiliate programs but didn't find them good enough.
2013 Plan: Need to get Google Adsense on my website. This can increase the revenue to USD 3-5 per day. So can expect USD 1,000 – 1,800 in a year.
Last but not the least I would love to hear from my readers about how I can better serve them. You can contact me through the Contact form or email me on [email protected].