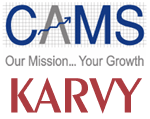 Are you the one who cannot keep track of all your investments? You get statement every quarter & struggle to keep it safe and then you cannot find it when actually you need it. Well sounds a familiar situation for most of us. But now tracking Mutual Fund Investments have become a lot easier. Karvy and CAMS together have come up with a tool where you can get all your transaction history in almost all Mutual Funds (except for funds whose registrars are other than CAMS & Karvy) just at the click of a button. Click on buttons below to take to the respective websites.
Here you get a small form where you need select some options and give your email address, PAN Number & a password which would be used to open the password protected pdf file that karvy would mail you. And wholla! you are done. In an Hour or so you receive a pdf file having details of all your transactions including non-financial transactions like change of address etc.
I found it very useful tool and recommend readers to use it to track their investments.