The Brochure & Application Form for Greater Noida Independent House/ Multistoried Flats Scheme is finally out and can be downloaded from this link.
Location of Flats:
The flats are in the following sectors of Greater Noida – Zeta-I, Beta-I, Chi-Phi, Swarn Nagri, MU-I, MU-II,Omicron-I, Omicron-I A, Omicron–II, Omicron–III,XU-I, XU-II, XU-III.
Below is the list of flats available along with price and registration money in the scheme: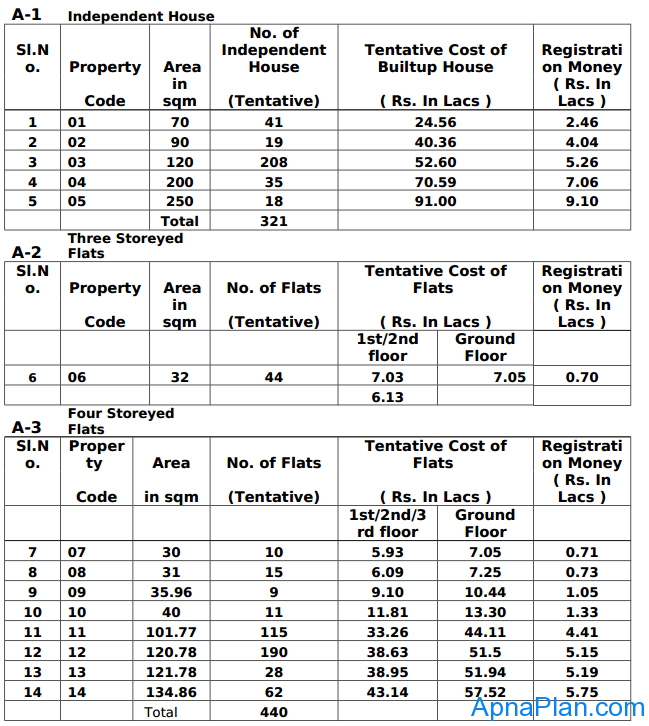 Reservation of Flats:
Only 50% of flats are available for general category, while the other 50% of flats are reserved for different categories as follows:
Eligibility for General Category:
The applicant should be an Indian citizen and be above 18 years of age
He should not earlier been allotted any residential plot or flat or house by the Greater Noida Industrial Development Authority
Eligible applicant, his/her spouse or his/her dependent children can apply for one Independent House/Multi Storeyed flat only.
How to Apply?
The application form can be purchased on payment of application-cum processing fee of Rs. 1100/- from any of the Bank branches listed below.
For getting application form by post, Demand Draft of Rs. 1150/- should be sent to the Sr. Manager, Bank of Baroda, Gamma Shopping Complex, Sector-Gamma, Greater Noida City, Greater Noida, Pin Code-201308.
The form can also be downloaded from www.greaternoidaauthority.in. In such case, please submit Demand Draft of Rs. 1100/- along with the registration amount towards the cost of brochure.
The application form duly completed and signed alongwith the required registration money should be submmitted to any of the listed Bank branches on or before closing date of the scheme.
Other Salient Points:
The flats are given on lease hold basis for 90 years.
Cash down payment applicants would be preferred over installment plan for allotment of flats
Important Dates:
Scheme opens on August 15, 2012
Scheme closes on September 14, 2012
Allotment on draw basis on November 20, 2012