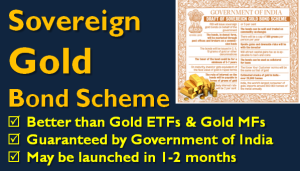 Budget 2015 first proposed Sovereign Gold Bond Scheme – an investment scheme where investors could buy gold in the form of Gold Bonds from Government of India.
We Indians love Gold and the idea is to give an alternative to investors who invest in Physical Gold.
Sovereign Gold Bond Scheme – Salient Features
The bonds would be denominated in grams of gold and can be bought by paying in rupees.
Each gold bond is equivalent to 1 gram of gold.
The bonds will be backed by Government of India against default.
Only resident Indians would be able to invest. NRI would not be eligible to invest.
The bonds would be distributed/sold by Banks, Post Offices, NBFCs and other intermediaries.
RBI (Reserve Bank of India) would issue these bonds on behalf of Government of India.
Also Read: Gold Deposit Scheme 2015
An individual can invest maximum of 500 grams of gold bonds in one year (approx 13 Lakhs at today's price).
KYC needs to be followed
The interest rate on these bonds would be decided by Government of India depending on market conditions.
The tenor of the bonds is 8 years. However early exit option is available from 5th year onwards.
Loan would be available against these Gold Bonds. The Loan to Value would be same as applicable to Gold and determined by RBI from time to time.
Bonds would be issued in both dematerialized and paper form. The dematerialized bonds can be traded on stock exchanges.
The capital gains on selling on these gold bonds would be same as in case of Gold.
On maturity the redemption would be in rupee only.
The interest would be calculated on the value of gold at the time of investment
At maturity, the principal amount would be redeemed at the prevailing rate of gold (previous week average price of closing price of gold of 999 purity as per India Bullion and Jewellers Association Ltd) at the time of maturity
If the price of gold has fallen from investment to maturity, the investors can roll over the bonds for 3 or more years.
Read the Official Press Release & Release of Finmin
Also Read: Five Signs of Purity for Gold Jewelry
Gold Bond Scheme Vs Gold ETFs:
As of today you can invest in Gold through any of the following products:
Gold ETF – This was most cost effective way to invest in Gold
Gold Mutual Funds – this invests in Gold ETFs and is more expensive than ETFs
Gold Futures on exchanges
Jeweler's "investment schemes" where you pay monthly installments and finally buy jewelry at the time of maturity
The Sovereign Gold Bond Scheme is more efficient way than all the above products.
In case of Gold ETFs & Mutual Funds, you pay fund manager (~ 1% to 2% every year) to manage the funds while in case of Gold Bonds you would earn interest. So we expect money from these two products to move to Gold Bonds.
Also Read: Gold Price in India – 40 Years History
To Conclude:
Sovereign Gold Bond Scheme would suit investors who invest in Gold for the purpose of diversification of investment portfolio (in form of Gold ETFs or Mutual Funds).
You can gain in two ways – one you can play on the price of gold and second you get interest on the gold held.
Would you invest in Sovereign Gold Bond Scheme?