The financial year ends on March 31 and there are various important things that you must DO before this. But from this year you MUST file your belated or revised income tax returns (ITR) for present Assessment Year (AY 2017-18 or FY 2016-17) and last Assessment Year (AY 2016-17 or FY 2015-16) in case you have NOT done yet.
Until last year, you could file your ITR till the end of next assessment year without much consequences. So with this practice, the last date of filing or revising the ITR for assessment year 2016-17 becomes March 31, 2018. However starting this assessment year, Budget 2016 had changed the timelines until which you can file your ITR for relevant year. Accordingly starting this assessment year 2017-18, the last day of filing ITR would be March 31.
What if You DO NOT File your ITR by March 31?
In case tax payers DO NOT file their Income Tax Returns by March 31, 2018 you would NOT be able to file ITR returns for AY 2017-18 & AY 2016-17 by yourself. You'll need to request your Income tax officer if you want to file ITR at a later date. Also in case you do not file your returns, you would for sure be served income tax notice at a later date asking the reason for the same.
All in all if you do not respond tax officer has to do tax assessment based on best information he has which might result in increased tax liability and additional penalty.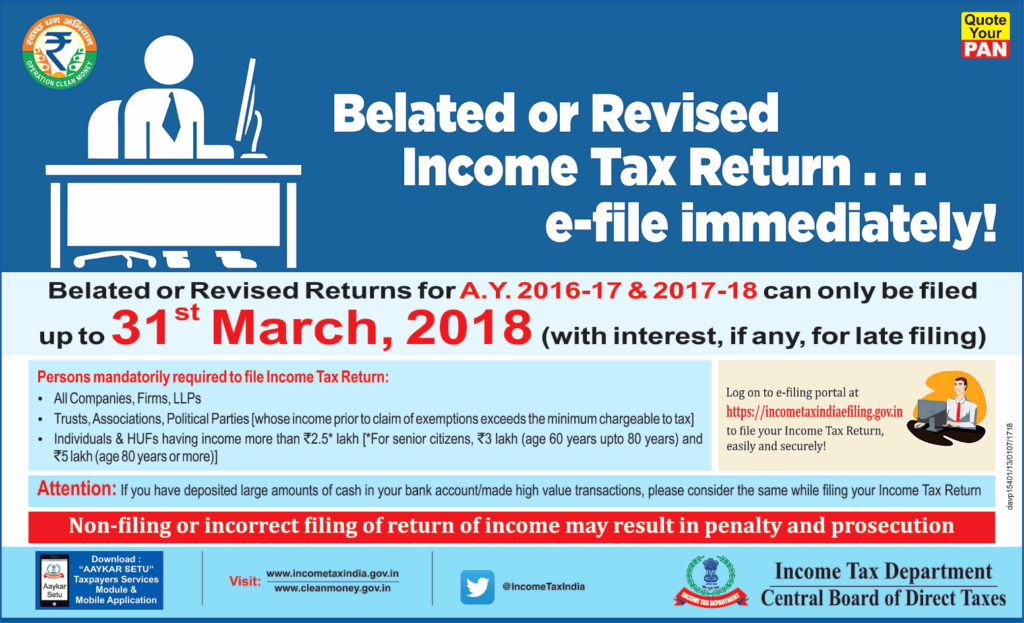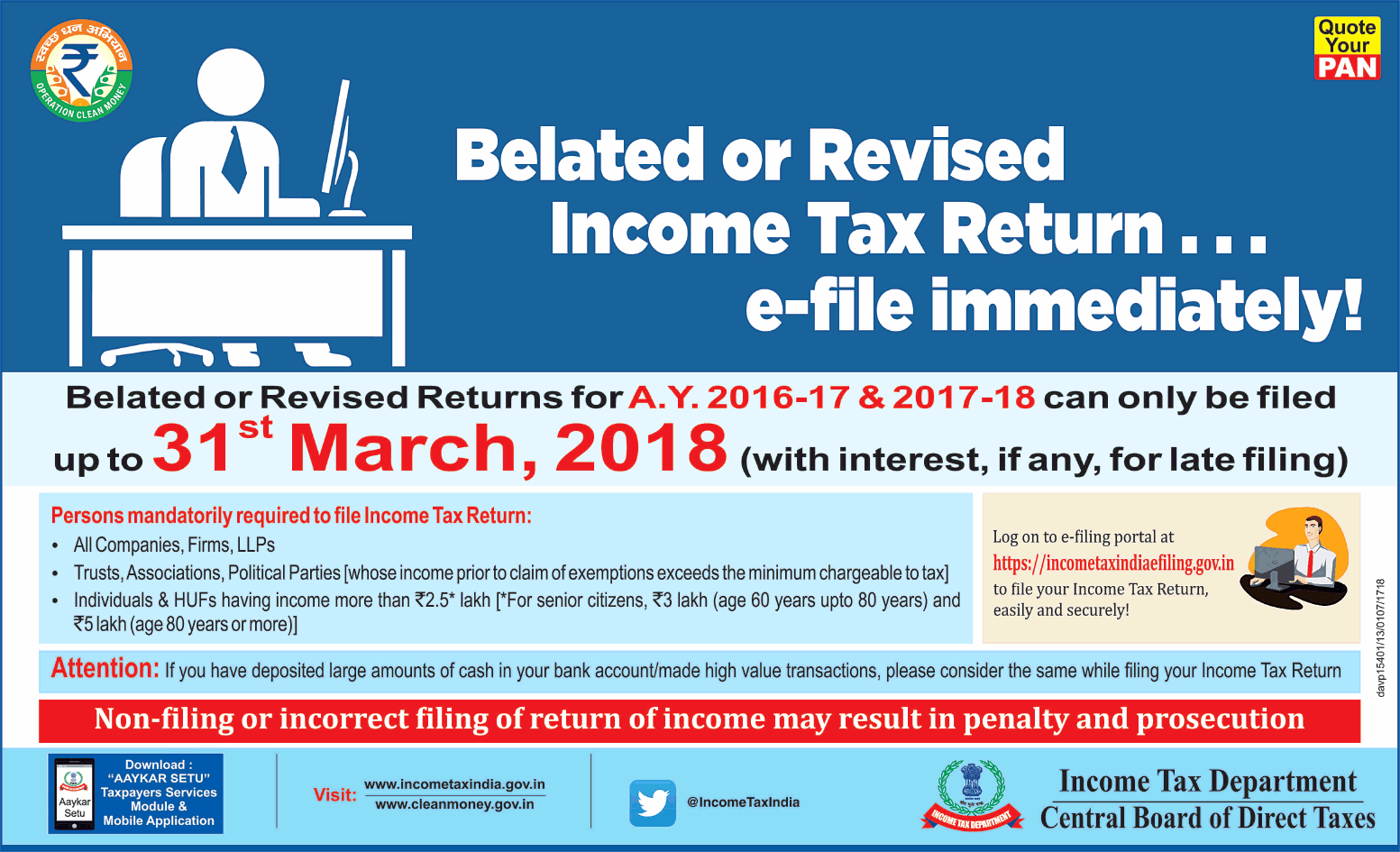 Be More Careful from next Assessment Year (2018-19)
Making things more stringent for late tax filers, Budget 2017 had proposed additional penalty for not following ITR timelines. If the income tax return is filed after the due date but on or before the December 31 of the assessment year, there will be a fine of Rs 5,000. In all other cases, there would be fine of Rs 10,000. However, in case the total income is less than Rs 5 lakh, the penalty should not exceed Rs 1,000. This would be applicable from AY 2018-19, so be more careful about ITR deadline and file it on time!
[box type="info" size="large" style="rounded" border="full"]
Here are some posts which can help you with e-filing of ITR 2017:
1. Which ITR form to fill for Tax Returns for AY 2017-18?
2. 9 key changes in ITR Forms for AY 2017-18
3. How to Claim Tax Exemptions while filing ITR?
4. How to Link Your PAN Number to Aadhaar Online & Offline?
5. Use Challan 280 to Pay Self Assessment Tax Online
6. Form 26AS – Verify Before Filing Tax Return
7. 5 Ways to e-Verify your Income Tax Returns
8. What if You DO NOT file your Returns by due Date?
9. Can I file my Last Year Tax Return?
10. Why and How to Revise Your Tax Return?
11. What does Intimation U/S 143(1) of Income Tax Act mean?
[/box]
Impact of late filing of tax return:
You should always file your ITR on time as you loose on some benefits. Here is a list of benefits you miss on in case you skip the July 31 deadline:
1% Monthly Late payment fee on tax due: In case after adding up all the TDS and advance taxes, if there is any tax payable from your side, you will need to pay monthly 1% late fee on the amount due for each month of delay.
Late refund: if you file your ITR late, you will also get your excess tax paid refunded late. This is a loss as you could have put to the money to better use and you obviously loose on the interest part.
Cannot revise your ITR: You cannot file a revised return in case you filed your original ITR late. This can be a major drawback if you find some error on a later date or just forgot to take advantage of some tax exemption.
Cannot carry forward your losses: you cannot carry forward following losses in case of delayed filing:
Speculation loss,
business loss excluding loss due to un-absorbed depreciation and capital exp on scientific research,
short term capital loss,
long term capital loss,
loss due to owning and maintenance of horse races
However you can still carry forward loss from House property. The above list is not comprehensive and may impact you the wrong way in case of late filing of tax returns.
To conclude, DO file your ITR by March 31 and from next year make it habit to comply with the ITR deadline as non-compliance would lead to additional penalty of Rs 5,000 to Rs 10,000.