NPS subscribers have received email from NPS [email protected] on their registered email with Subject: "Online submission of FATCA Self-Certification for your PRAN under NPS". Have reproduced the mail below.
What is FATCA?
FATCA is Foreign Account Tax Compliance Act, a law enacted by USA in 2010. According to this law, any individual who is resident of USA (citizens or green card holders) or financially connected to the US or have any tax residency in US have to declare all their foreign income and investment details to US Tax Authorities. The law was enacted to prevent tax evasion through offshore investments by US residents.
India is signatory of the above law and hence all the financial entities like Banks, Insurance Companies, Mutual Funds, Brokerages, etc have to furnish their client information to the Indian Government, which in turn would share it with US Government. In case you have no income connection with USA, you are not impacted but still need to give the declaration.
Also Read: NPS Tax Benefit u/s 80CCD(1), 80CCD(2) and 80CCD(1B)
How to Submit FATCA Self-Certification of NPS Online?
Thankfully the process of FATCA Self-Certification is Online and simpler this time.
Below is the screenshot for step by step process.
Step 1: You can Login to NPS Site by clicking here or from the email you received.
Step 2: From the menu go to Transaction >> FATCA Self-Certification as shown below

Step 3: This will give you the Form below. The default values are already filled and in most cases ou'll have to click Submit.
Kindly note, you are required to submit physical FATCA Self-certification form to your Nodal Office or CRA if your Birth Place, Citizenship and Residence for the Tax Purposes is other than India or you are US citizen.
Also Read: Should you Invest Rs 50,000 in NPS to Save Tax u/s 80CCD (1B)?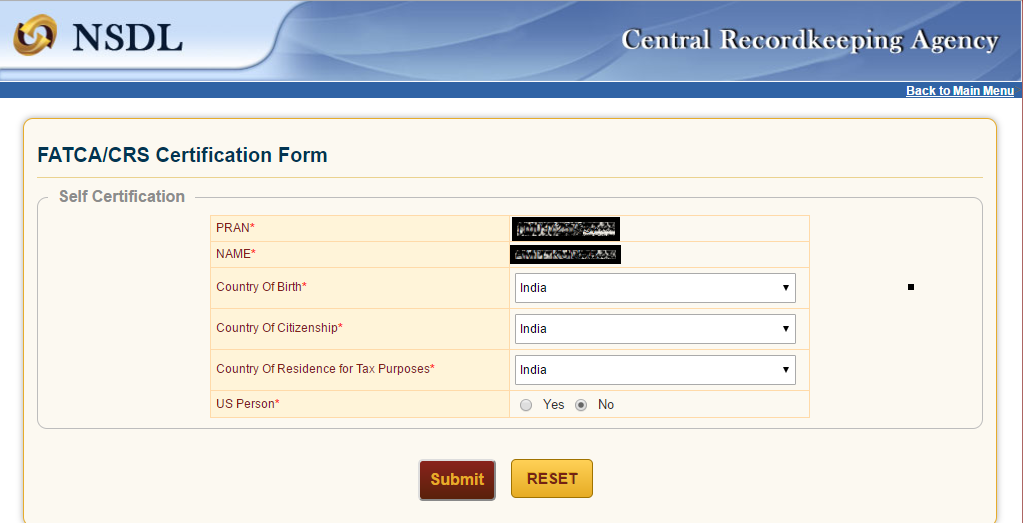 Step 4: On clicking Submit above you'll get the "Declaration by Customers" below. Click Confirm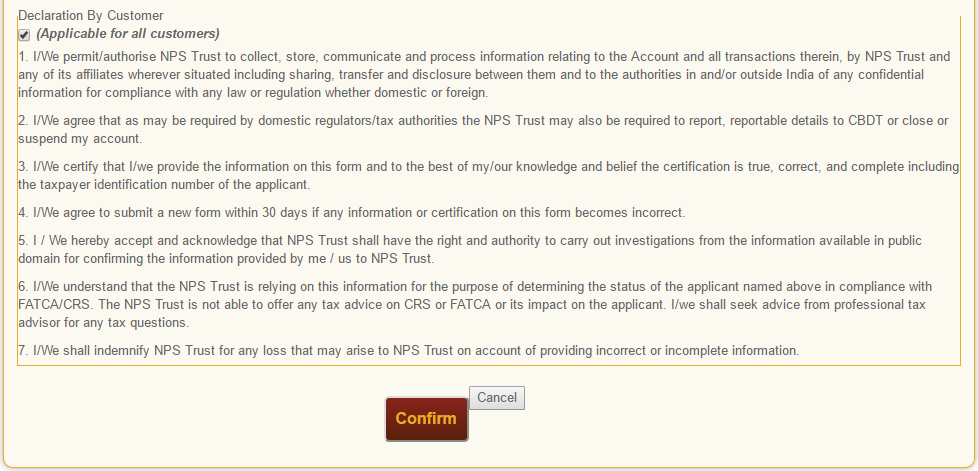 Step 5: A pop up is generated to enter the OTP sent on your registered mobile number. I got this OTP but was not able to proceed further due to server issues!
Download: Ultimate Tax Saving ebook with tax calculator FY 2017-18
Step 6: Acknowledgement is generated as below:
Hopefully the above step by step instructions would have helped you complete "Online submission of FATCA Self-Certification for your PRAN under NPS"