Dewan Housing Finance Corp Ltd (DHFL) has come out with public issue of non-convertible debentures (NCD) offering up to 9.10% interest rate. The issue opens on May 22 and closes on June 4, 2018.
DHFL is a deposit-taking housing finance company and among the 50 biggest financial companies in India. It is the second housing finance company to be established in the country with focus on low and medium income housing finance in Tier 2 & 3 cities.
DHFL NCD – Significant Points:
Offer Period: May 22 to June 4, 2018
Annual Interest Rates for Retail Investors: 8.90% to 9.10% depending on tenure
Additional Interest: 0.1% for Senior Citizens. Also incentives for investors who hold the NCD till maturity
Price of each bond: Rs 1,000
Minimum Investment: 10 Bonds (Rs 10,000)
Max Investment Limit for Retail Investor: Rs 10 Lakhs
Credit Rating: 'CARE AAA;Stable (Triple A; Outlook: Stable') and 'BWR AAA (BWR Triple A), Outlook: Stable'
NCD Size: Rs 9,000 crore with option to retain over-subscription upto Rs 12,000 crore
Allotment: First Come First Serve
Listing: Bonds would be listed on Stock exchange and will entail capital gains tax on exit through secondary market
Also Read – Know NCD – Investment Tips, TDS and Taxation
DHFL NCD – Investment Options:
There are 7 options of investment in DHFL NCD.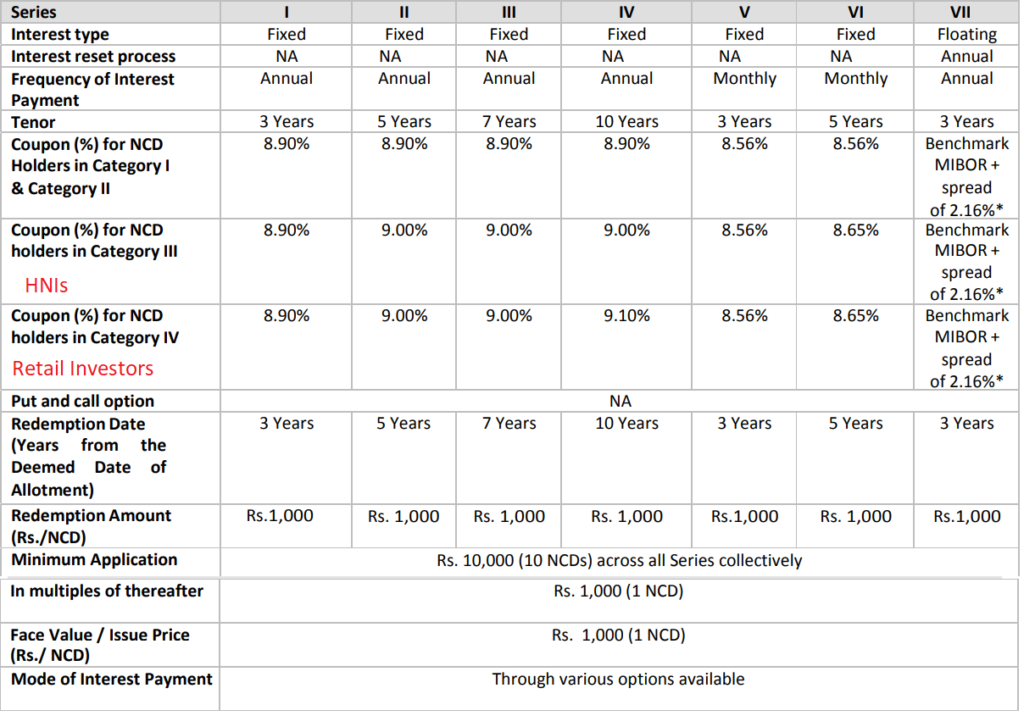 Series VII offers floating interest rate benchmarked to MIBOR (Mumbai Inter-Bank Offered Rate). As of May 17, 2018 this was 6.05%. So as of today the interest rate on offer would be 8.21% (6.05% + 2.16%). You can check latest MIBOR rates here.
Senior Citizens shall be eligible for an additional incentive of 0.10% p.a.
Retail Investors and HNIs who hold the NCD till maturity shall be eligible for a one-time additional incentive of 0.50%, 0.70%, 1.00% and 0.50% for Series II, Series III, Series IV and Series VI respectively, payable along with last interest payment.
Also Read: 25 Tax Free Incomes & Investments in India
DHFL NCD – Who can Apply?
This issue is open to all Indian residents, HUFs and Institutions.

Retail Investors can apply for allotment of NCDs in both physical form or Demat Form.
NRIs cannot apply for this NCD.
Why you should invest?
AAA Credit rating which is the Best rating assigned
Top 50 Finance companies in India
No TDS if invested in Demat Form
Also Read: Highest Interest Rate on Recurring Deposits
Why you should not invest?
The interest rates trend is rising. In last two months SBI has raised its interest rate on fixed deposit by 0.75%. It seems like the interest rates would go up more in near future. Hence should not lock your investment for long term.
The present Tax Free Bonds are offering yields up to 6.5% in secondary market, which is alternate investment for People in highest tax bracket.
How to Apply?
You can apply online by ASBA facility provided by banks. It's the easiest way to apply and also avoids a lot of hassle in terms of KYC and paper work.
In case you don't want to do it online, you can download the application form from company site or Financial Institutions and submit to collection centers.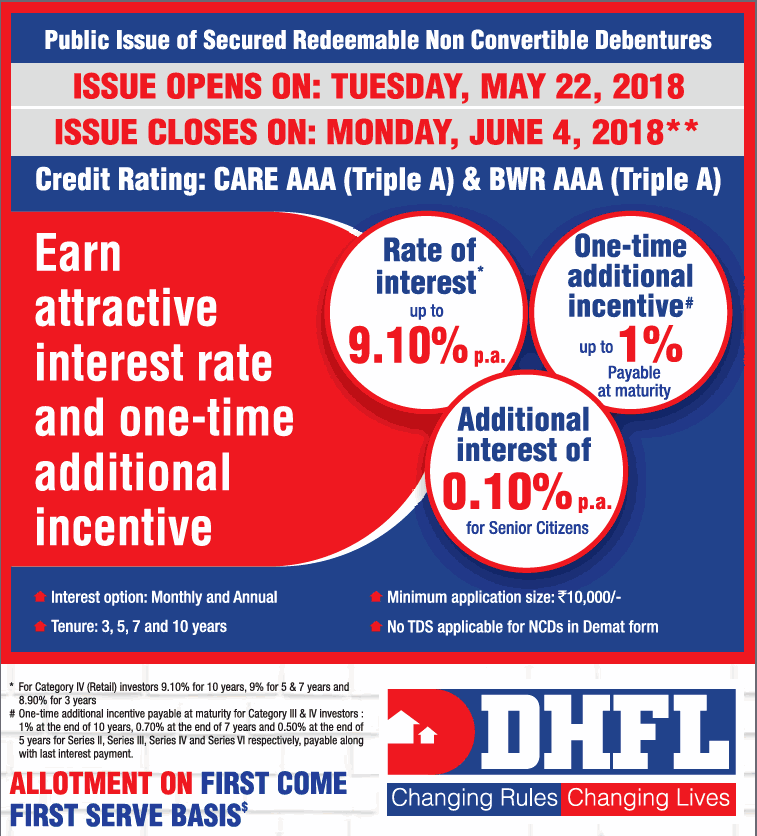 Recommendation:
My recommendation is to invest some part of your Fixed Income investment in this NCD Issue
You should always have diversified portfolio be it fixed deposit, NCD or equity investment
Its good idea to remain invested till maturity because liquidity on exchanges are low and hence you would get lower than market value. Alos there is incentive if you hold NCD till maturity
You can also play rising interest rate by opting for Series VII which is linked to MIBOR rates.
If you plan to invest in this issue, do it early as most good NCD issues are over-subscribed before the end date.