Income Tax Department has come out with Mascot Design contest and offering Rs. 1 Lakh cash reward to the winners.
Criteria For Selection:
The Mascot should visually unify the vision and values that Income Tax Department wants to promote, such as:

Payment of tax as a value norm in the society and a core duty of every citizen.
Payment of tax as a contribution of citizen in Nation building and ensuring a better future for coming generations.
Depiction of Income Tax Department as an enforcement agency as well as a facilitator for voluntary tax compliance
Depiction of Income Tax Department as a friend to every honest taxpayer.

The design must be original, visually appealing and distinct. It must be easily adaptable to various means of communications.
Mascot can be sent in any pose, however, design in front, back and side views with colour schemes are preferred. Use different sheet of A4 size paper for different posture.
Design along with suggestions like size, pedestal details is welcome.
A brief concept note in support of the design may also be provided.
More than one design can be sent, however, each design must be sent separately, as a separate entry.
How to Submit Entries?
Entry can be sent in two ways:
1. By Post
Send your entry on an A4 size paper in an envelope superscribed as "Mascot Design for Income Tax Department" by ordinary post to Post Box No. 6005, New Delhi-110001.
Every entry must carry the entrant's name, address, phone number, e-mail address on front or back of the 'Mascot Design' in BLOCK LETTERS.
2. By Email
Entry in high resolution JPEG format can be sent by email to [email protected]
The subject of the email must mention "Mascot Design for Income Tax Department" and the e-mail must contain the entrant's name, address and phone number.
Last date for sending entries is September 23, 2012
You can get more details on the income tax website and the advertisement below.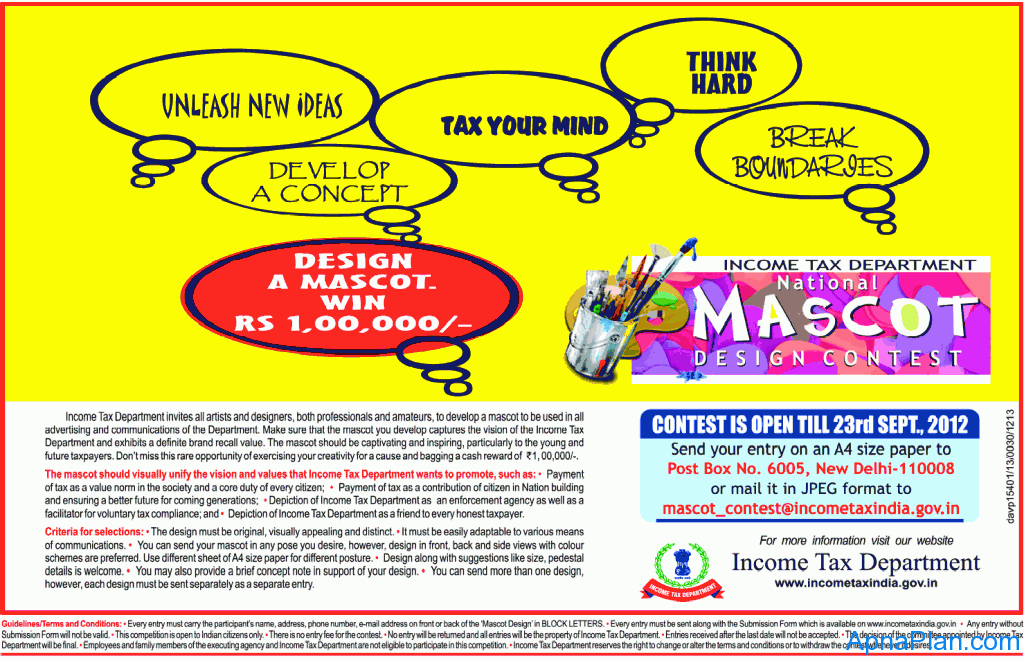 Go ahead and unleash your creativity 🙂