Who does not want to double their money! But how we can do it and in how much time? In this post we tell you legitimate ways of doubling your money and the associated risk with each option.
Kisan Vikas Patra (KVP)
Kisan Vikas Patra or KVP is part of Post Office Small Saving Scheme and another popular investment choice. This was discontinued but reinstated in FY 2015-16.
The rate of interest and the hence the duration to double the money is revised every quarter by government of India. The KVP interest rates for January to March 2020 is 7.6% and matures in 113 months.
Also Read: Kisan Vikas Patra – Eligibility, Features, Interest Rates & Maturity
Bank Fixed Deposits
Bank fixed deposit is the most popular investment in India. As of today, most banks are offering interest rates of 6% to 7% for general public and 6.5% to 7.5% for senior citizens for deposits of more than 5 years.
If you invest in Bank FD with interest rate of 6%, your money would double in approximately 12 years. With 7% interest the time take for doubling the investment would be 10 years 3 months.
The interest rates are cyclical and keep on fluctuating. At times these rates go as high as 9%, in which case you can double your money in just 8 years.
Also Read: Highest Interest Rate on Bank Fixed Deposits
Corporate Bonds (NCDs)/Deposits
In case you are not satisfied with lower interest rates on bank FDs and ready to invest with higher risk, you can go for corporate bonds or their deposits. Interest offered on corporate FDs and NCDs depend on the credit rating and the credibility they have in the market but is more than banks FDs.
At times NCDs have options to "double your money" like Muthoot Finance Ltd NCD issued in May 2019 doubled the money in 90 months.
PNB Housing Finance Ltd. a "AAA" rated company Offers 8% for 120 months deposit. At this rate your money would double in 9 years.
Also Read: Latest Issues of NCDs
Mutual Funds
A popular question I am often asked is – how much time it takes to double my money in mutual funds? The answer is bit complicated. First, we can broadly classify Mutual funds in Equity Vs Debt.
Equity funds invest in stock market and their returns are related to stock market returns – and hence unpredictable. Debt funds invest in debt instruments and their returns are close to FD returns.
Debt or Arbitrage Mutual Funds
As stated, returns of debt mutual funds are slightly higher than Bank FDs and so we can assume a return of 6.5% to 7.5%. With this return the time to double the money would vary from 9 to 12 years.
Equity Mutual Funds
The chart below shows the NIFTY returns over last 19 years. As you can see, you can earn 72% in just one year and loose more than half of your investment in a year. In short term its high risk – high return game.
Taking this in consideration, you can double your money by investing in equity mutual funds in less than a year and at times may even take more than 10 years. If you had invested at the market peaks in late 2007/early 2008, you may not have still doubled your money. On the other side if you had invested in lows of 2002, you would have easily doubled the money in less than 2 years. It all boils down to right selection of funds, timing and luck.
Also Read: Best ELSS (Tax Saving Mutual Fund) to Invest
Stock Market
Returns on Individual shares are very volatile. You could double your money in just few weeks and loose entire savings in matter of few days. The chart below shows stock price of Yes Bank for last 6 months (which has been very volatile and on downward trend).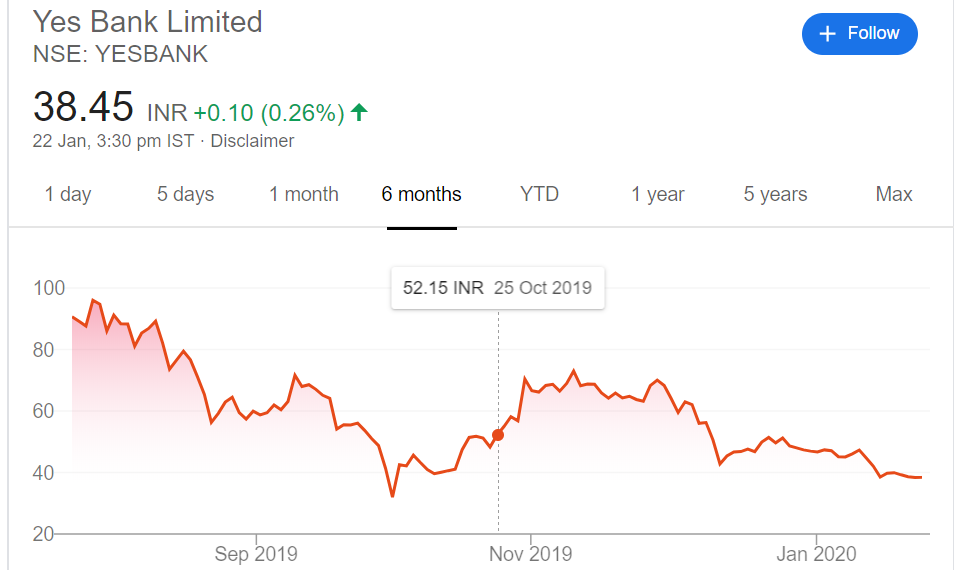 If you wanted to play with fire and got the timing right, you could have invested in Yes Bank on October 1, 2019 at the rate of Rs 32. The share went to Rs 70 on October 31, 2019 doubling your investment in less than a month. But on the contrary if you would have invested on October 31 at Rs 70, you would have lost almost half the value as of today!
Also Read: 23 most common Investments and how they are Taxed in 2020?
Gold
Gold can be purchased in multiple forms – in physical form as jewelry, pure coins/bars and in digital form like gold ETF, sovereign gold bonds, etc. The chart below gives the price of gold since 1974.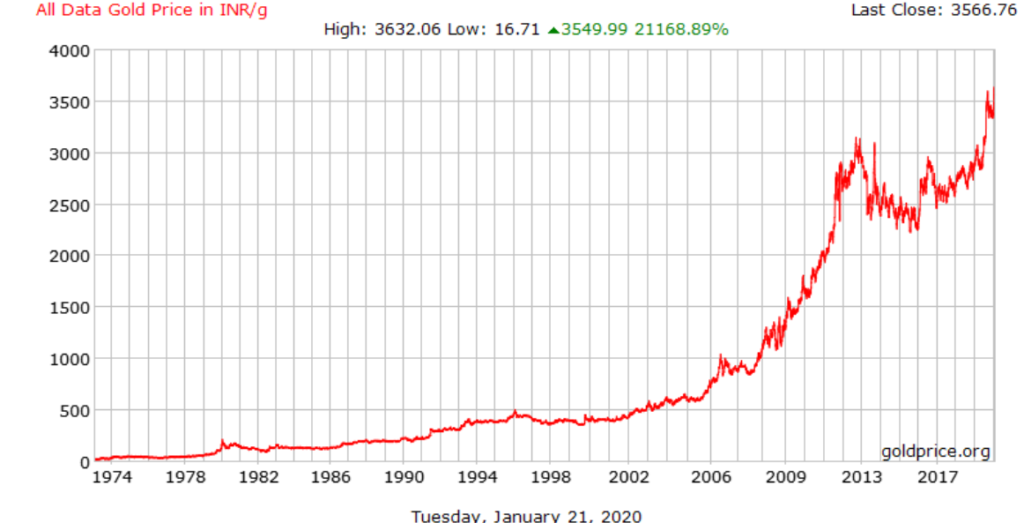 As you can see prices of gold fluctuate too. If you had invested in gold in 1996, it would have taken 10 years to double your investment. However, it took just 4 years to double from 2007 to 2011.
Gold ETF closely follows physical gold prices. In case you would have invested in HDFC Gold ETF in August 2010 at Rs 1860, you would have doubled the amount in December 2019 – more than 9 years.
Also Read: Latest Issues of sovereign gold bonds
Real Estate
Real estate is most traditional form of investment and we often hear stories about how it created wealth for investors. But in most cases these assets have been held for a very long period and hence the numbers look big.
The chart below shows the price trend for land in Sector 40, Gurgaon (a popular locality) taken from 99acres.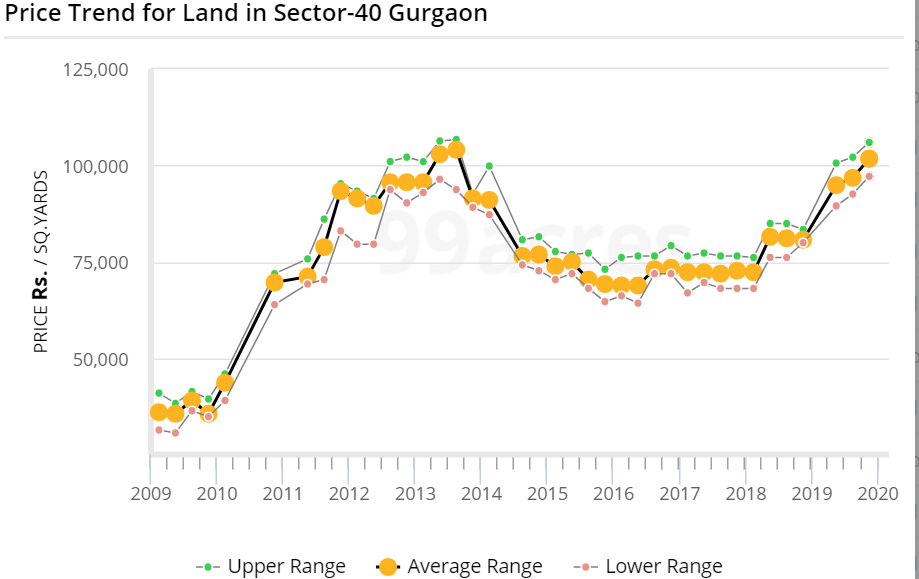 It clearly shows that the prices can fluctuate a lot. If you were savvy investor and got invested at the start of real estate boom in 2009, you would have doubled your money in just one and half years. However, if your timing was wrong and invested at the market peak in 2013/2014, you would have waited 6 years for the prices to come to earlier level.
Best Investment to Double your Money?
As we discussed, investing in individual stocks in the fastest way to double your money but also the riskiest. You can get double the investment in just a month or sooner but loose money at the same rate. You need to be an expert and have lot of spare money to take this kind of risk.
On the other hand, we have KVP – a government backed guaranteed scheme without any risk of loosing capital. But with present interest rate it takes 113 months (9 Years 5 months) to double your money. Then there are investments like mutual funds, corporate FDs and NCDs, real estate and gold with varying risk and returns. All you need to do is understand the underlying risk and invest accordingly.