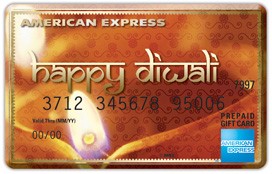 American multinational financial services corporation American Express today launched a new pre-paid gift card in India.
The gift card is available in two variants – 'Classic' and 'Diwali' – and entails no additional spending after purchase, an American Express release said.
The card will be available in Rs 500, Rs 1,000, Rs 2,000 and Rs 5,000 denominations, it said, adding that it can be replaced for free if lost or stolen.
There will be no fee for checking balance, monthly servicing or for card replacement, the release said.
Announcing the launch, American Express Global Payment Options President Alpesh Chokshi said, "Gifting is an integral part of Indian culture and we are excited to launch the American Express gift card in India, providing millions of consumers and corporations with the perfect gift for any occasion."
With the launch of the American Express gift card in India, Chokshi said, "We are setting a new standard in the gifting segment, which is estimated to be more than USD 30 billion."