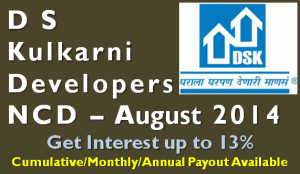 D S Kulkarni Developers is Pune based real estate developer with interests in Mumbai, Bengaluru, Nasik, etc has come out with Secured NCD (non convertible debentures) to raise Rs 200 Crores.
The company plans to use the proceeds of the issue to finance its DSK Dream City, an integrated township spread across more than 200 acres on the Pune-Sholapur road near Pune and few other projects under development and general corporate purpose.
D S Kulkarni NCD – Significant Points:
Offer Period: August 4 – August 26, 2014

Annual Interest Rates for Retail Investors: 12.50% to 13.00% depending on tenure

Additional 0.25% Interest to Senior Citizens, Women, Serviceman, Ex-Serviceman, Employees and Shareholders

There is also an option where the money doubles in 6 Years 6 Months (66 Months)

Price of each bond: Rs 5,000

Minimum Investment: 5 Bonds (Rs 25,000)
Max Investment Limit for Retail Investor: Rs 5 Lakhs

Credit Rating: CARE BBB+

All NCD option are Secured

The security is land bank valued at 1.5 times the amount raised by NCD

Allotment: First Come First Serve

Listing: Bonds would be listed on BSE and will entail capital gains tax on exit through secondary market
NRIs cannot invest in the issue

You can subscribe both in Demat and Physical form

There is no TDS if the subscription is in Demat form while TDS @ 10% would be deducted on interest received on Physical forms.
Also Read – Know NCD – Investment Tips, TDS and Taxation
D S Kulkarni NCD – Investment Options:
There are 4 options of investment in DS Kulkarni NCD.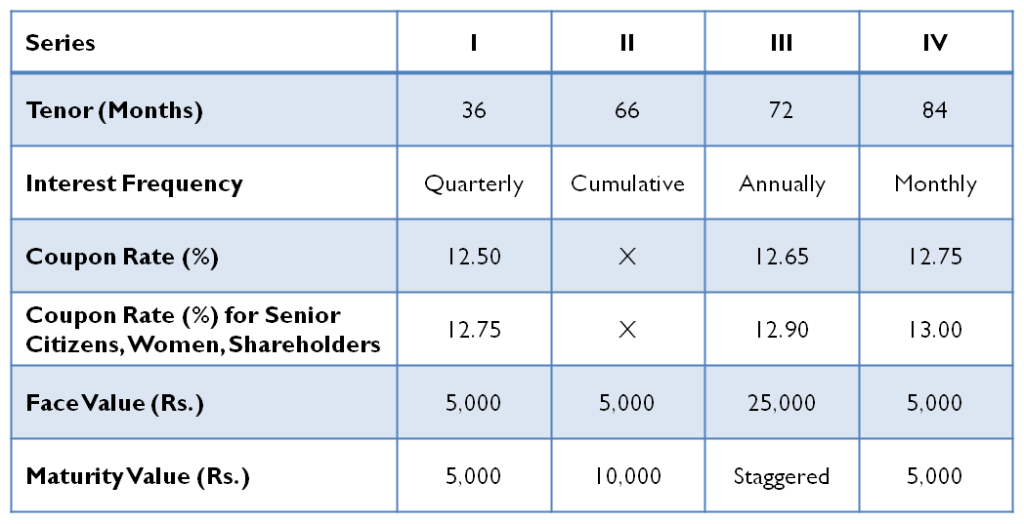 The Option III has Staggered Payment every year as follows: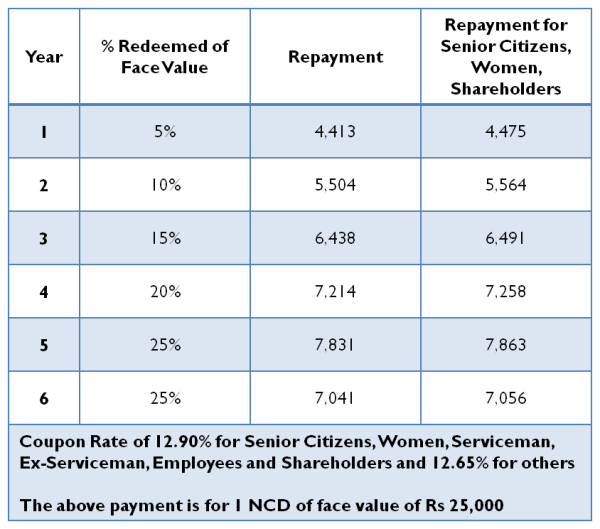 Following are the classification of Investors:
Category I is Institutional Investors

Category II is Non-Institutional Investors

Category III is Individual Investors
80% of the Issue is reserved for Category III i.e, Retail Individual Investors
Why you should invest?
The interest offered is best among all the recent and listed NCDs or fixed income options
It's a well know listed company in Real Estate space
The NCD is secured. So in case of default by the company the land bank may be liquidated and investors might be paid back.
Why you should not invest?
The rating is BBB+ which indicates moderate credit risk.
The company operates in real estate and things have not been great for them from past several years. With over priced real estate the slowdown may continue leading to downgrading of credit rating.

The

profits have been declining

like most of real estate players. If the trend

continues

there may be further credit risk.

Though NCDs are listed on stock exchange, the liquidity is very low. So it might be difficult to exit anytime you want. You might have to sell at discount to exit
How to Apply?
If you have Demat account apply through that. It's the easiest way to apply and also avoids a lot of hassle in terms of KYC and paper work
In case you don't have Demat Account, you can download the application form from company site or Financial Institutions and submit to collection centers.
Conclusion:
The DS Kulkarni NCD is high risk high return kind of investment. Its on you if you want to take that risk for fixed income investments.

If you are too tempted with the interest offered, you might invest only a small percentage of your fixed income portfolio in this NCD

You should always have diversified portfolio be it fixed deposit, NCD or equity investment

Its good idea to remain invested till maturity because liquidity on exchanges are low and hence you would get lower than market value
D S Kulkarni Secured NCD Advertisement: